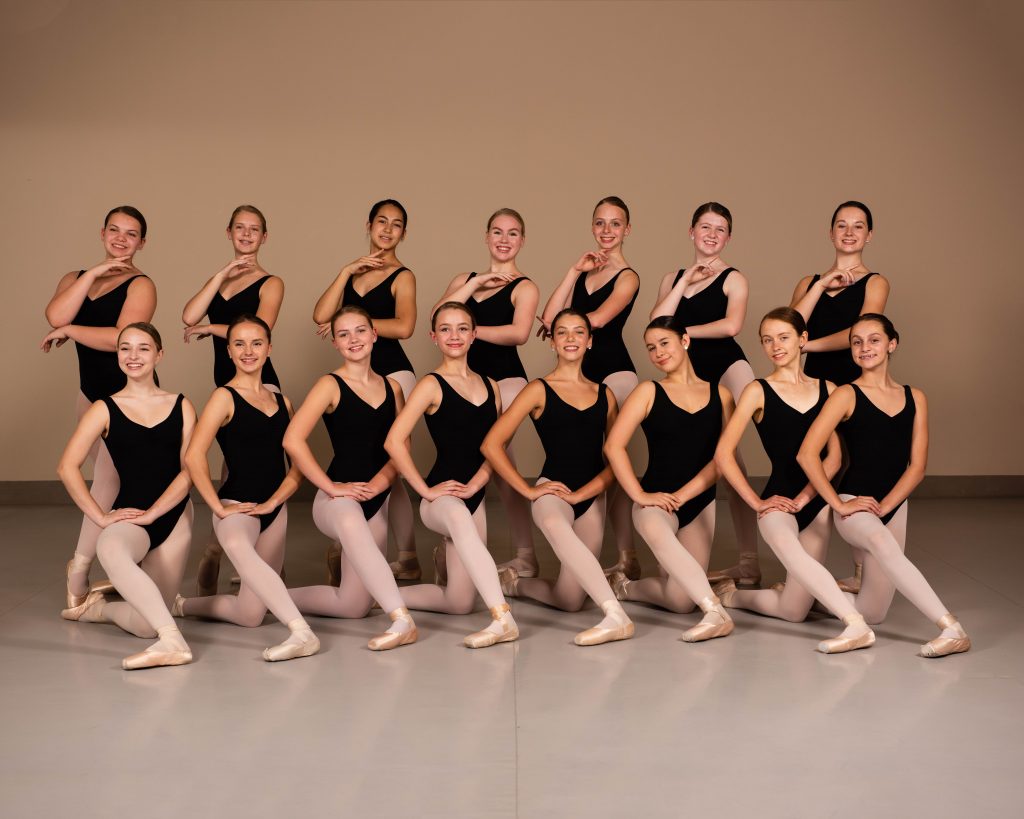 Columbia Dance Company Photo 2018-2019
(1st row, left to right): Lily Siegel, Kirsten Pierson, Ava Moore, Keira McCuen, Cassidy Morris, Maya Cole, Hannah Tully, Kara Moore.
(2nd row, left to right): Keira Monge, Hailey Holbrook, Ainsley DeGuzman, Sydney Rowley, Zoey Simmerson, Sami Remington, Sophie LeBard.
Columbia Dance Company 
Founded in 1987, the mission of Columbia Dance is to provide a positive, nurturing and challenging environment where all are inspired to embrace their creative potential through dance. We are dedicated to presenting quality performances, providing community service, outreach, and education in dance. We set high artistic standards in teaching and performance, presenting dance as an appreciable life-enhancing experience for both our students and our community. Artistic Director Jan Hurst has been providing artistic leadership since 1996. Each season Columbia Dance Company presents a full length Nutcracker, and Columbia Dance Presents!, an eclectic repertory concert, featuring exciting new works by our company's Artistic Director, alumni and guest choreographers. We also host an annual Choreographer's Showcase, which is designed to encourage and nurture young, pre-professional choreographers. We are supported by a dedicated board of directors who have been honored for their contributions to the cultural diversity in Vancouver. Our alumni have established careers in professional companies as well as careers in which their dance skills enable them to help our world be a better place in which to live. Our alumni have danced professionally with Attack Theatre, BodyVox, Éowyn Emerald & Dancers, Georgia Ballet, Idaho Dance Theatre, Young Americans Japan Tour and Midwest US Tour, The Juilliard Dance Ensemble, Nashville Ballet, Nederlands Dans Theatre, Nevada Ballet Theatre, North Atlanta Dance Theatre, Northwest Dance Project, Nguyen Dance Company, The Pillow Project, and Rasta Thomas' Bad Boys of Dance.