Columbia Dance needs your support: 
Columbia Dance is a not-for-profit 501[c]3 organization. Tuition and performance revenue account for a substantial portion of the organization's annual budget. However, like most professional and community based cultural organizations, Columbia Dance must rely on the generosity of individual donors and the fundraising prowess of it staff and board to meet all of its financial goals. All contributions to Columbia Dance are tax deductible to the full extent of the law.
If you would like assistance in making a donation, please contact us at 360-737-1922.
If you would like to make a donation online securely via PayPal (no PayPal Account is required) follow the link below:
Columbia Dance Donation Opportunities
Scholarship Fund:
We have a substantial on-going need for scholarships. We also provide partial scholarships to families that have temporary financial situations which require them to ask us for for tuition assistance.
Enhancing the performance capabilities of the large studio:
We have great plans for using our large studio as a convertible performance space for concerts and choreographic projects. The long term goal is to have the studio properly equipped with lighting, sound and scenic equipment. Fundraising goal this season for this project: $6000.00.
You may make a donation by filling out the downloadable Contribution Form and mailing it, along with your check or credit card information, to Jan Asai, Executive Director, Columbia Dance, 1700 Broadway, Vancouver, WA 98663.
Ways Donations Have Helped Columbia Dance:
Mural Project: This beautiful, eye-catching mural, painted on the 17th street side of the building, is based on a Degas style painting of dancers at Barre. The design was generously donated by the artist, Janet McGregor and additional fundraising covered the cost is to have the painting affixed to the side of the building.
Marquee Project: We recently installed a theatre style marquee outside the studio main entry. The Marquee is used to display seasonal performance ticket purchase information, studio contact information, performance posters, class & camp schedules.
Ways to Give:
AmazonSmile Foundation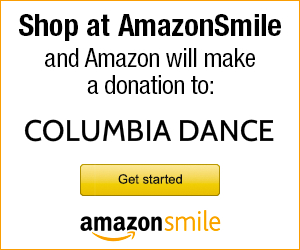 Fred Meyer Community Rewards
We Do you shop at Fred Meyer? Now there's an easy way to support Columbia Dance every time you shop at Fred Meyer with your Fred Meyer Reward Card. It's easy to sign up; just go online to www.fredmeyer.com/communityrewards. You still receive all you reward points and Fred Meyer will make a donation to Columbia Dance for every purchase you make. 
Spread the Word!
Join the "Columbia Dance" Facebook page and  help spread the word to your friends.